We've Moved!
The Learning Center has moved!
Below you will find the latest news on our migration progress. If you are actively enrolled in one of our virtual trainings (e.g. The Growing Brain), you may access your course from your dashboard.
Please note: the dashboard link will appear on the right side menu between home and Frequently asked questions once you have signed in.
Please make sure to view our FAQs below for any questions you may have during our migration.
---
Certification updates
Certification is now available. Sign in and visit the certification section of your dashboard to enroll or renew your certification as well as print your certificate!
Learner records
If your records are incomplete contact us via email here. Certificates for completed courses will be found under the "transcripts/achievements" section of your dashboard.
last updated 3/16/2021

Frequently Asked Questions
How can we help?
Check out our frequently asked questions below for tips, tricks, and answers to our most popular queries.

General Questions
Q: Do I need to create a new account?
---
Maybe.
If you have never had an account on our Learning Center or on zerotothree.org, you will need to create an account. You can create one
here
You will NOT need to create a new account if
:
If you are coming from our old Learning Center. You will however, need to reset your password by clicking here.
If you currently have an account on zerotothree.org used for your ZERO TO THREE membership, the Bookstore or Member Connect.


Q: I signed in but nothing appears anywhere in my dashboard. Where are my records?
---
While we have done our best to merge accounts in our systems, you may have a duplicate account if you are using two different email addresses. Please do not create a new account.
Your records were merged using your old Learning Center account. Please make sure to sign in with the email address used to take your training and/or apply for certification.
Q: Who do I email if I have technical difficulties? When can I expect a response?
---
If you have questions about your certification, click here to contact the certification team.
If you have a technical question, click here to contact the tech team.
Please allow 1-2 business days for a member of our team to review and respond to your inquiry


Q: I have issues receiving emails from the system, how can I fix that?
---
All of our email communications will come from the email domain @zerotothree.org. To ensure you receive our communication, especially automated account information (e.g. password reset emails), please whitelist the domain @zerotothree.org in your email account.
These steps vary with every organization and email provider(e.g. gmail, yahoo). Please reach out to your IT team and/or email provider for specific steps for your account.
If you have whitelisted @zerotothree.org and have worked with your IT team and are still not receiving our communication, contact us at
learnsupport@zerotothree.org
.
Q: How do I print my certificate?
---
Certificates are available for print in your dashboard.

Course/Training attendance certificates are available under the transcripts/achievement section of your dashboard.
Trainer Certification certificates are available under the Certification section of your dashboard.
Q: Are there any technical requirements to attend a virtual training?
---
Our new platform is designed to work on any device but for the best experience, we recommend using a computer with Google Chrome or Mozilla Firefox.
Q: What is ZERO TO THREE's Anti-Harassment Policy?
---
ZERO TO THREE is committed to ‬providing‭ ‬a‭ ‬friendly,‭ ‬safe‭ ‬and‭ ‬welcoming‭ ‬environment‭ ‬for‭ ‬all who attend ZERO TO THREE learning events.‬‬‬‬‬‬‬‬‬‬‬‬‬‬‬‬‬‬‬‬‬‬‬‬‬‬‬‬‬‬‬‬‬‬‬‬‬‬‬‬
We‭ ‬expect‭ ‬all participants in ZERO TO THREE learning events ‬to‭ ‬abide‭ ‬by‭ ‬this‭ ‬Anti-Harassment Policy ‬in‭ ‬all‭ ‬venues at the ZERO TO THREE learning event, including ancillary events and official and unofficial social gatherings.‬‬‬‬‬‬‬‬‬‬‬‬‬‬‬‬‬‬‬‬‬‬‬‬‬‬‬‬‬‬‬‬‬‬‬‬‬‬‬‬‬‬‬‬‬‬‬‬‬‬‬‬‬‬‬‬‬‬‬‬‬‬‬‬‬‬‬‬‬‬‬‬‬‬‬‬‬‬‬‬‬‬‬‬‬‬‬‬‬‬‬‬‬‬‬‬‬‬‬‬‬‬‬‬‬‬‬‬‬‬‬‬‬‬‬‬‬‬‬‬‬‬‬‬‬‬‬‬‬‬‬‬‬‬‬‬‬‬‬‬‬‬‬‬‬‬‬‬‬‬‬‬‬‬‬‬‬‬‬‬‬‬‬‬‬‬‬‬‬‬‬‬‬‬‬‬‬‬‬
You can find our full Learning Event Anti-Harassment Policy by clicking on the button below
View Policy
Live Events
Q: How do I join my session?
---
Event reminder emails are sent to registrants 5 days, 1 day and 1 hour prior to the event start time. In this email there will be a direct link to your course. At the time of the event, click on the link to visit the course webpage.
Make sure to sign in with your username and password.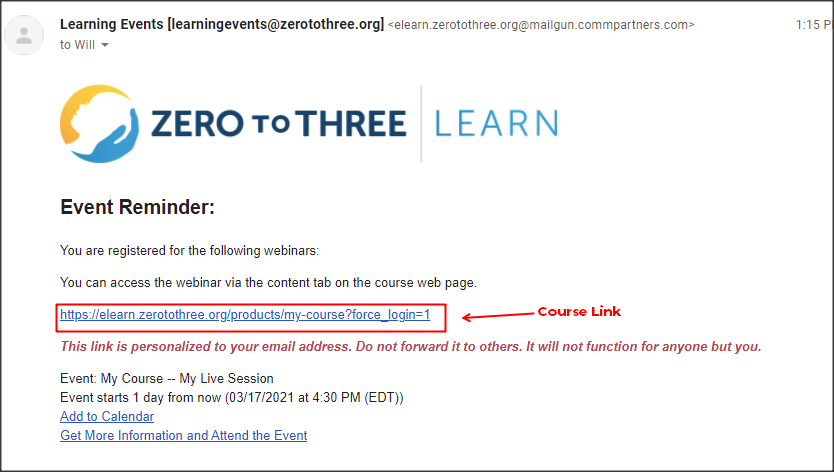 From the Course content tab, click on the "Enter Live Event in Progress" button to enter the live training.
Please note: Participants are allowed to enter the training 10 minutes prior to the start time.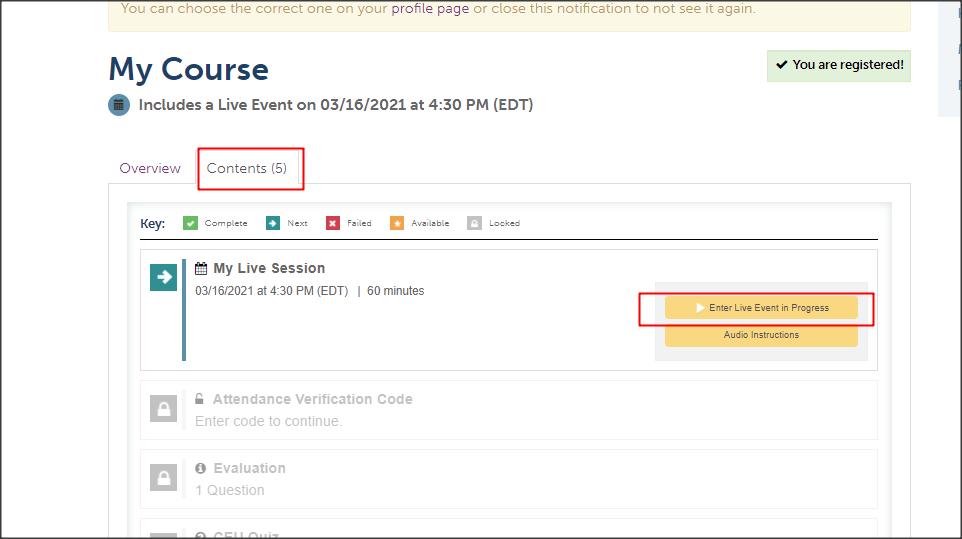 Q: What is the attendance verification code?
---
Attendance in our live events is automated. During the training an attendance verification code will be given by the trainer.
You MUST attend the training through our eLearn platform as detailed in the "how do I join my session?" section of the FAQs.
Below is a video on how to enter your Verification Code:
Trainer Certification
Q: If I purchase ZERO TO THREE Membership, am I a Certified Trainer?
ZERO TO THREE Membership has many benefits but it's purchase will not qualify you as a Certified Trainer in ZERO TO THREE Curriculum.

Due to it's digital nature and instant delivery, we are unable to provide you with a refund if you accidentally purchased ZERO TO THREE Membership. If you recently purchased a membership, the membership you receive with your certification will be applied to the end of your current membership. We are unable to offer refunds on memberships purchased prior to certification.
Q: What do the dates on my certification dashboard mean?
Earned: The date you were awarded certification
Expired: The date your certification will expire. You must recertify before this date.
Recertification: The earliest date you can reapply/renew your certification.


Please note: Expiration dates are based on when your certification or renewal is awarded. We recommend renewing as close to your expiration date as possible without it lapsing.
Q: When will I be able to apply/renew my certification again?
---
Certification is now available for enrolment. You can enroll in certification by visiting the certification section of your dashboard.

Q: I'm renewing my certification, what documents do I need to upload when I apply for renewal?
---
The documents required vary with each Trainer Certification Program.
You can view the documents required for Trainer Certificaion Program by downloading the Criteria Overview below:
Q: Do I need to upload all my documentation again?
---
If you've completed your application on the Learning Center, you will not need to upload your documentation again.
If you are starting a new application (or new renewal) you will have to upload your documentation using our new application process.
Q: How does the new system affect my certification?
---
It doesn't! If you currently hold an active certification with ZERO TO THREE, it will be transferred to the new system automatically.
Q: Will the new system be better?
---
Yes! This new system will be easier to navigate and streamlined. You'll be able to see your certification progress and see exactly what you've completed, what you're missing, and next steps.
Q: Can I still recertify in the new system? Will it carry over my certification even if it has expired?
Yes, you can still recertify in our new system! Your expired certification will be carried over into the new system to allow you to apply for your renewal.
Online Courses
How long do I have to complete my self-paced course?
---
Our self-paced online courses typically have a 365 day completion deadline but may vary. Please view the course's overview tab for the specific completion deadline of the course.
I finished a module but it is not being marked as completed or passed. What do I do?
---
Our self-paced online courses have a "trigger" that tell the platform when a module is complete. Please ensure to view the entire module and complete any quizzes found within the module.
Once finished, make sure to close and exit the module and return to the course content page. If the module is still not appearing as complete, let us know by emailing
learnsupport@zerotothree.org
. If your course has a quiz, please include a screenshot of the results paging indicating you have passed the module.
| Access Date | Quiz Result | Score | Actions |
| --- | --- | --- | --- |
Learning Center
Contact us
[{"type":"text","required":true,"label":"Name","className":"form-control","name":"name","subtype":"text"},{"type":"text","subtype":"email","required":true,"label":"Email","description":"This is the email we will use to contact you. Please use the email address used to register.","placeholder":"What is the email address linked to your account","className":"form-control","name":"email"},{"type":"select","required":true,"label":"What are you inquiring about?","placeholder":"Please select one...","className":"form-control","name":"select-1621361387322","values":[{"label":"Certification","value":"Certification","selected":true},{"label":"Online, Self-Paced Training","value":"Online, Self-Paced Training","selected":false},{"label":"Live, Virtual Training","value":"Live, Virtual Training","selected":false}]},{"type":"select","required":false,"label":"Which certification are you inquiring about?","placeholder":"Only select one if your question if regarding Trainer Certification","className":"form-control","name":"select-1621361696307","values":[{"label":"DC:0-5","value":"DC:0-5","selected":true},{"label":"The Growing Brain","value":"TGB","selected":false},{"label":"Critical Competencies for Infant-Toddler Educators™","value":"Critical Competencies","selected":false}]},{"type":"textarea","required":true,"label":"Description","description":"Please give us a brief description of the issue you are encountering. For best support, please provide course/module name and date/time(if applicable)","placeholder":"Please include as many details as possible (e.g. Course name, module name, date, time,etc...)","className":"form-control","name":"textarea-1621361517766","subtype":"textarea"}]
Contact Us